What is a Moyen Poodle? Everything to Consider Before Getting A Moyen Poodle
Are you thinking about buying or adopting a Moyen poodle? Or have you heard about a Moyen poodle, but you are unsure what they are? Well, Moyen poodles are a type of poodle. The types of poodles are differentiated by their size. Moyen poodles are smaller than standard poodles but larger than mini and toy…
Are you thinking about buying or adopting a Moyen poodle? Or have you heard about a Moyen poodle, but you are unsure what they are?
Well, Moyen poodles are a type of poodle. The types of poodles are differentiated by their size.
Moyen poodles are smaller than standard poodles but larger than mini and toy poodles. They are great family dogs. They can also be used as show dogs.
Whether you are thinking about buying a Moyen poodle or you have no idea what they are then you should keep reading.
This article will give you an in-depth look at these beautiful dogs and will tell you everything you need to know before you add one to your family.
What is a Moyen Poodle? The History of Moyen Poodles
Poodles are a breed of dogs that have been around for a couple of hundred years, but Moyen poodles are relatively new. Their origin is a bit unclear. Some theories suggest they originated in France or Germany.
Moyen does mean medium in French, but these dogs are also called Klein poodles. Klein is a German word for small. They are also commonly referred to as French poodles or Chein poodles.
Poodle is derived from the German word "pudelyn" which means splashing in the water. Poodles were given this name because they were used for hunting waterfowl. They also have a natural love of the water.
What Does a Moyen Poodle Look Like?
Moyen poodles look just like any other poodle. The only physical difference is their size. Below is a brief description of Moyen poodles for those of you that have never seen a poodle or are unfamiliar with their physical attributes.
Head: They have a rounded skull with a long and straight muzzle. Their muzzle and head may look parallel when viewing them from the side.
Body: Their height is fairly equal to the length of their body which gives them a squared appearance.
Eyes: Their eyes are generally very dark and oval-shaped. They also look alert and intelligent.
Tail: Their tail is often docked to ½ or ⅓ the original length. They have straight tails that sit relatively high on their backside.
Coat: They have obvious dense curls in their hair. Their coloring can range from one color to several colors. Their coloring is often gray, silver, brown, or cream.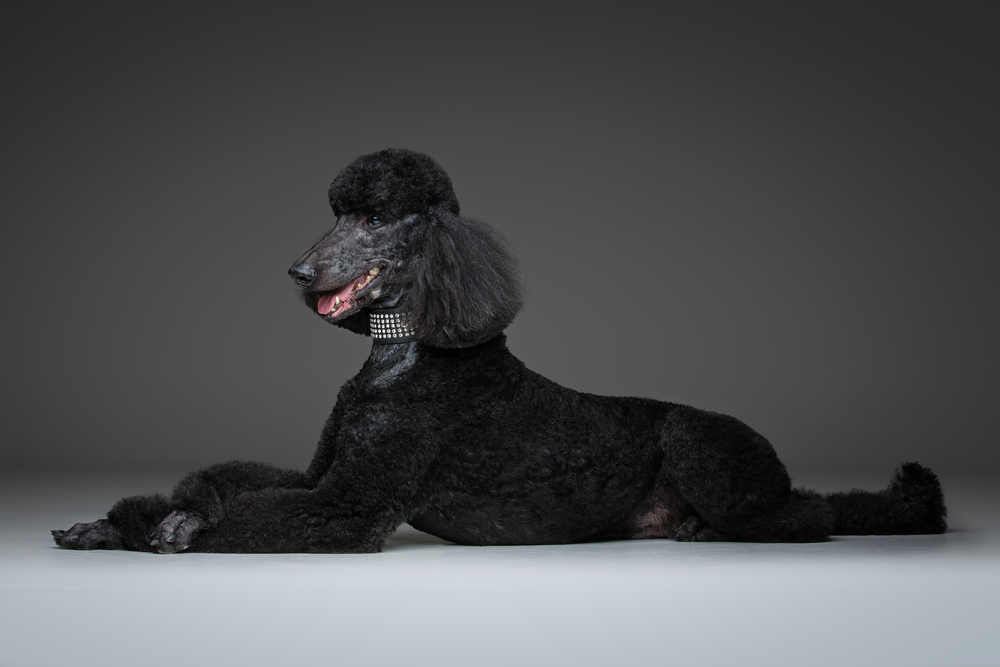 Important Things to Know About Moyen Poodles Before Getting One
There are four different kinds of poodles; toy, mini, medium, and standard. There is no significant difference between Moyen poodles and other types of poodles. However, there are some things you should know before buying a Moyen poodle.
They Are Not Recognized by the AKC
The American Kennel Club does not recognize Moyen poodles, but it recognizes the other three breeds.
Many European organizations do recognize Moyen poodles as the size of poodles. You can still register your dog with the AKC.
They will simply base their classification on the poodle's size and weight.
They Are Extremely Intelligent
All four types of poodles are too smart for their good. If you buy a Moyen poodle you will need to set aside time daily to train and stimulate your dog.
They will learn tricks very fast, but you should consistently train with them to help them feel intellectually challenged.
Cost of Buying a Moyen Poodle Puppy
Moyen poodles are purebreds, which therefore means they are not cheap dogs to buy.
If you find a certified breeder you should expect to pay around $2,000. Show dogs on the other hand can range from $3,000-$4,000 and there is often a waiting list to purchase one.
Another important thing to keep in mind is that poodles with fancy coloring are sold for more money.
People get excited by the multiple colors on dogs, making them a higher commodity than single-colored poodles.
You may be lucky to have a poodle shelter organization near you. Their adoption fees range from $50-$500. However, there is no guarantee you are adopting a purebred
Factors to Consider When Buying a Moyen Poodle Puppy
When buying a new puppy there are multiple things to keep in mind. The price of the dog is only the tip of the iceberg of things you should be thinking about.
You should consider if you are going to have the dog spayed or neutered, what size the dog will grow into, and more.
Spay or Neuter Clause
It is not uncommon for a breeder to ask you to sign a spay/neutering clause. Breeders want to ensure the dog will be kept as a pet and not used to be bred.
A breeder may be willing to give over breeding rights for the dog, but they often charge a couple of grand more to obtain those rights.
Size is Determined by Parents
The size of Moyen poodles varies based on their parents. To breed a Moyen poodle a breeder has either breed two Moyen poodles or a standard poodle with a toy poodle. The size of your poodle will de dependent on the size of its parents.
If the parents are close in size you can assume your poodle will be about the same size. However, if the parents are vastly different sizes your poodle could be as small as the small parent or they could grow as large as the large parent.
They Require Constant Grooming
Moyen poodles have a thick curly coat of hair. They require to be brushed several times a week if not once a day. They should be bathed every other week and they will require constant visits to a groomer.
Unlike other dogs, a poodle's hair is constantly growing. If their hair is left ungroomed it can begin to mat. Matted hair is not only an eyesore to look at, but it can cause a lot of pain to your dog. Imagine how much your head hurts when you brush tangles out.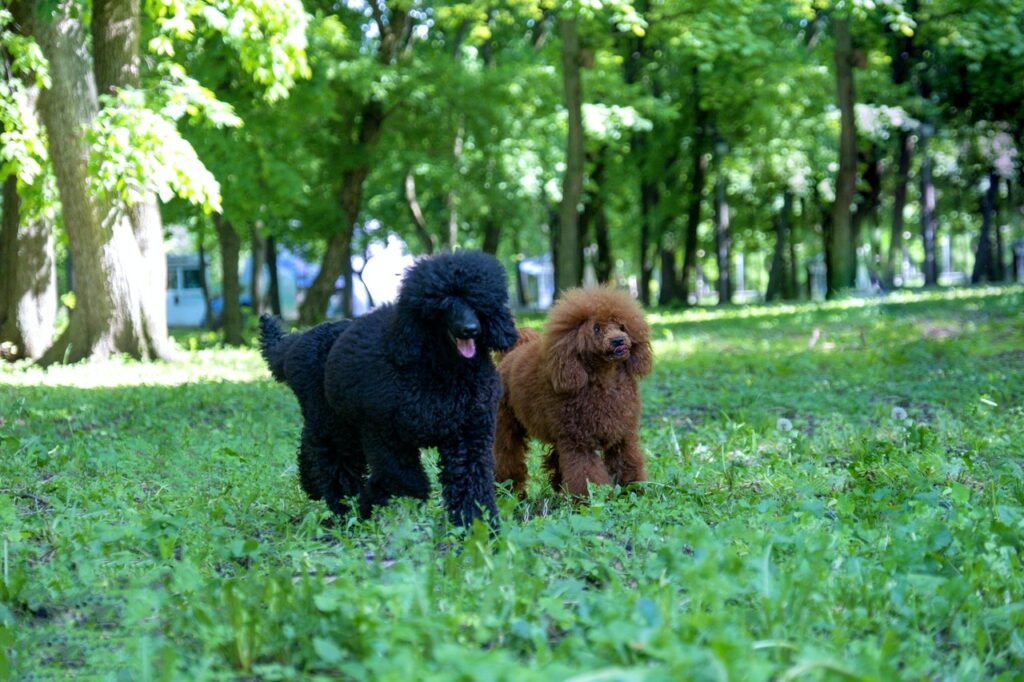 Moyen Poodle Size (Weight and Height)
Moyen poodles are 15-20 inches tall when measured at their shoulders. They can weigh anywhere from 20-30 lbs. Some poodles may weigh more or less. Sometimes the added weight can come from long hair and not extra weight on the dog.
Moyen Poodle Weight and Height Chart
The weights and heights listed below are based on averages. Your puppy may be slightly smaller or larger than the ranges listed. Do not use these ranges to determine if your dog is growing slowly or growing too fast. This information is simply to help you have a reasonable expectation of how much your dog can grow.
| | | |
| --- | --- | --- |
| Age | Weight | Height |
| Birth to 4 weeks | Less than 4 lbs | Less than 7 inches |
| 4 weeks to 8 weeks | 2 to 10 lbs | 4 to 10 inches |
| 2 to 4 months | 4 to 22 lbs | 7 to 13 inches |
| 4 months to 8 months | 7 to 23 lbs | 9 to 19 inches |
| 8 months to 1 year | 11 to 24 lbs | 10 to 20 inches |
Moyen Poodles Weight and Height Chart
At What Age Do Moyen Poodles Stop Growing?
At 18 months the Moyen poodle is considered fully grown. You will see most of their growth between 6 and 9 months of age. After that, they will slowly grow until they reach 18 months of age. Your poodle's weight could continue to fluctuate long after they are fully grown.
What Colors are Moyen Poodles?
Moyen poodles can be gray, blue, silver, apricot, brown, or cream-colored. They can either be one solid color or multi-colored. Tri-colored poodles are very popular and can therefore cost more money.
What is a Merle Poodle?
A merle poodle refers to the pattern of a poodle's coat and not a specific color of the coat. If the poodle has a pattern of patches on its coat then it is a merle poodle. Any size poodle can be a merle poodle. The pattern is not specific to Moyen poodles.
Moyen Poodle Versus Standard Poodles
Per the American Kennel Club standard poodles are classified as any poodle over 15 inches in height. However, most people consider a standard poodle to be 24 to 27 inches tall while the Moyen poodle is typically 15 to 20 inches tall.
Additionally, there is a significant weight difference between standard and Moyen poodles. Standard poodles can weigh 50 to 70 lbs. While Moyen poodles typically do not weigh more than 30 lbs. There is no difference in demeanor or temperament between a standard versus a Moyen poodle.
Moyen Poodle Temperament
Poodles are ranked the second smartest dog breed, and Moyen poodles are no exception. Their intelligence can often come off as stubbornness. If you keep your poodle active and intellectually engaged it will be a great companion.
Their intelligence makes them very easy to train. They are people-pleasing dogs. They want nothing more than to show you how well they comprehend the task you are giving them.
Moyen poodles are very energetic dogs. Many people recommend walking them for 30 minutes every day along with playtime and training them.
You should do a small training session with them every day. You should also have interactive toys for them to play with when you are unable to give them your undivided attention.
Do Moyen Poodles Get Along with Other Dogs?
With proper socialization, any dog can get along with other dogs. Moyen poodles are generally friendly dogs, but they can become fearful.
You should socialize your dog as early on in its life as you can. The more they are around other dogs the more they will be used to them and the more friendly they will be friendly towards other dogs.
Can a Moyen Poodle Live Comfortably in an Apartment?
Moyen Poodle can live comfortably in an apartment. Moyen poodles are medium-sized dogs they will do great in an apartment. They do have a lot of energy, so as long as they are receiving some kind of exercise they will be fine in a small home or apartment setting.
Their high energy does not make them a good crate dog. Some dogs will be fine being in a crate all day, but poodles need to be out and about. They are incredibly smart dogs and they need to feel intellectually challenged.
If you are out of the apartment majority of the day and you are not comfortable leaving the dog out you may not want to purchase a poodle. Other dogs can cause damage when they are left to roam a house, but a poodle can cause damage if they are left in the kennel for a prolonged time period.
Do Moyen Poodles Bark a Lot?
Moyen poodles are classified as moderate barkers. They are not yappy dogs though.
Poodles are very intelligent and can sense when something is off. This sense will make them bark, but they do not go on for 10 minutes at a time.
If you are concerned that the dog may bark too much you can work on training them to bark less. Many owners have found their dogs bark less and are manageable after training.
There is no way to make a dog never bark, but training can help you have control during the situation.
Moyen Poodle Litter Size
Generally, a litter of Moyen poodles consists of 3-7 pups. Larger dogs will have more pups per litter. If the female dog is a standard poodle she will likely have closer to 7 pups per litter. If mom is a mini or toy poodle she will have closer to 3-5 pups per litter.
Moyen Poodle Lifespan
Moyen poodles' lifespan is 12-15 years. They will require regular checkups with the vet, an active lifestyle, and high-quality food to live a long and healthy life. Their lifespan is about the same when compared to other dog breeds of similar sizes.
You should expect a Moyen poodle to develop some form of ailment as they get older. Honestly, you should expect any dog to develop an ailment as they get older. Their bodies become more fragile and will require more support from you and potentially more vet visits.
Are Moyen Poodles Good for Families?
Moyen Poodles are excellent family dogs. They have a calm temperament which helps them to be gentle around children. They also have the energy to keep up with your kids even when you do not.
Are Moyen Poodles a Good First Pet?
The best first pet for each person varies based on their lifestyle. In general terms, Moyen poodles are a great first pet for anyone. They are relatively small and very affectionate animals. They are also very easy to train.
They do require a lot of exercise and grooming. A Moyen poodle may not be the best option if you do not get out much or do not see yourself walking your dog a lot. They also may not be a good idea for you if you do not have the time or money to have them frequently groomed.
Moyen Health Issues to Look Out For
Unfortunately, every breed of dog is prone to developing health issues. Some issues are breed-specific and some affect any and every breed of dog. Poodles are more prone to ear infections, skin infections, and more.
Ear and Skin Infections
Poodles are prone to skin and ear infections. These infections can occur at any point during a Moyen poodle's life. Many Moyen poodles will experience multiple skin and ear infections throughout their lifetime.
Skin infections in poodles are generally caused by improper use of clippers. They can also develop skin infections from using the wrong shampoo or brush for their fur. There are specific shampoos you should use for poodles. You should also use a slick brush to brush their hair.
Poodles' long hair, floppy ears, and their love for water create a perfect environment for bacteria to grow. Water can easily get trapped in a Moyen poodle's ears. Whether your dog likes to swim or gets regular baths, you should routinely clean their ears.
You can purchase an ear cleaning solution from your normal vet. This will allow you to be proactive and prevent an ear infection from occurring. You should use the ear cleaner after anytime your dog has been in the water.
Ear cleaners that you buy at the pet store do not have a drying agent. They often will add moisture to the ear and make the infection worse. You should choose a vet-grade ear cleaner because they have a drying agent in them that will remove any moisture that has been able to build up.
As Moyen poodles get older they are prone to developing cataracts and other eye problems. This is not an uncommon development in older dogs. The older humans become, the more health problems we develop and dogs are the same way.
Joint Problems
Eye Issues
All poodles are prone to luxating patellas which is when the kneecap moves out of place. There is no obvious evidence to suggest this condition causes pain to a dog, but they can not bear weight on the leg when the kneecap is out of place.
You may notice the dog is walking with a skip or running on three legs. Some dogs will discover how to pop the kneecap back in place on their own.
This is a condition that many dogs can live their entire life with. However, this disposition does make them susceptible to other knee injuries.
Moyen poodles can also suffer from arthritis or hip dysplasia. These conditions may not affect them until they are older.
You should be observant of lethargy, limping, slow movements, or whimpering and whining when moving. These are not always just signs of aging.
Your dog may be in pain and should see a vet for help to ease their pain.
Dental Issues
Any dog breed is susceptible to dental issues. There is no way to avoid dental problems, but there are things that you can do to reduce the severity of these issues. You can brush your dogs' teeth weekly if not daily.
Most veterinarians will also recommend a yearly dental cleaning. This dental cleaning removes any plaque and tartar that may have built up. It also allows the vet to further inspect your dog's mouth and look for teeth that need to be removed or could cause issues later on.
Are Moyen Poodles Hypoallergenic?
All poodles are referred to as hypoallergenic. This is due to their curly hair. Their hair holds dander in and prevents them from shedding as much as other dogs. You should know there is no such thing as a truly hypoallergenic dog.
Moyen poodles shed less than other dogs, but they still shed. This lowered level of shedding is all some allergy sufferers need to live peacefully with a dog.
Conclusion
Moyen poodles are intelligent, loyal, and affectionate dogs. They will make a great first pet for anyone or any family that is relatively active. They require to be exercised every day to stimulate them and allow them to burn off some energy.
There are no significant differences between Moyen poodles and any other poodle. The only difference is their size. Moyen poodles are smaller than standard poodles but larger than mini and toy poodles. Other than that their temperament and everything else is very similar.
They are expensive dogs to purchase and maintain. They require regular groomings and special shampoos. Unfortunately, many pet store-bought shampoos will irritate their skin and could lead to an infection. You can speak to your dog's groomer about what shampoo they recommend for your dog's coat.
There are several health concerns that you should be on the lookout for. They are very prone to skin and ear infections which can occur at any point in their life. As they get older they will be more susceptible to eye and joint issues.
All in all Moyen poodles are excellent dogs for a family or a person living on their own. They can be easily trained and they want nothing more than to please their owner. Hopefully, this article provides some insight into this amazing breed.