How Much To Feed A German Shepherd Per Day: Feed Table and Schedule Included
Well well…you got a new German Shepherd pup and now the question is: How Much To Feed A German Shepherd Per Day? The German Shepherd Dog (GSD) is a devoted and affectionate family companion. He is one of the most preferred service dogs in the world since he is trainable, eager to impress, and extremely…
Well well…you got a new German Shepherd pup and now the question is: How Much To Feed A German Shepherd Per Day? The German Shepherd Dog (GSD) is a devoted and affectionate family companion. He is one of the most preferred service dogs in the world since he is trainable, eager to impress, and extremely observant.
German Shepherd Dog (GSD) may consume a significant amount of food because of his stout and large body, enormous height, and working capabilities. To keep everything from strong jaws to healthy bones in good condition, your GSD will require high-quality food.
It is preferable to choose that food that provides a nutritionally complete and healthy balanced diet. Selected food must be suitable for each specific period of life in which your Shepherd is at, and your GSD must love that flavor!
Additionally, before discussing the amount of feed you must give to your GSD, let us first discuss the frequency of feeding per day. You must give around 4-5 cups of food per day to your adult German Shepherd and give 2 cups of food each day in the case of pups.
We will discuss this GSD frequency (month-wise) later on in this post. So, let's continue reading…
German Shepherds' General Nutritional Requirements
The first point you should keep in mind is that you should feed your German shepherd dog food that matches their nutritional requirements. Although this may appear to be self-evident, it is a common blunder that may cause your dog a great deal of grief throughout his or her life.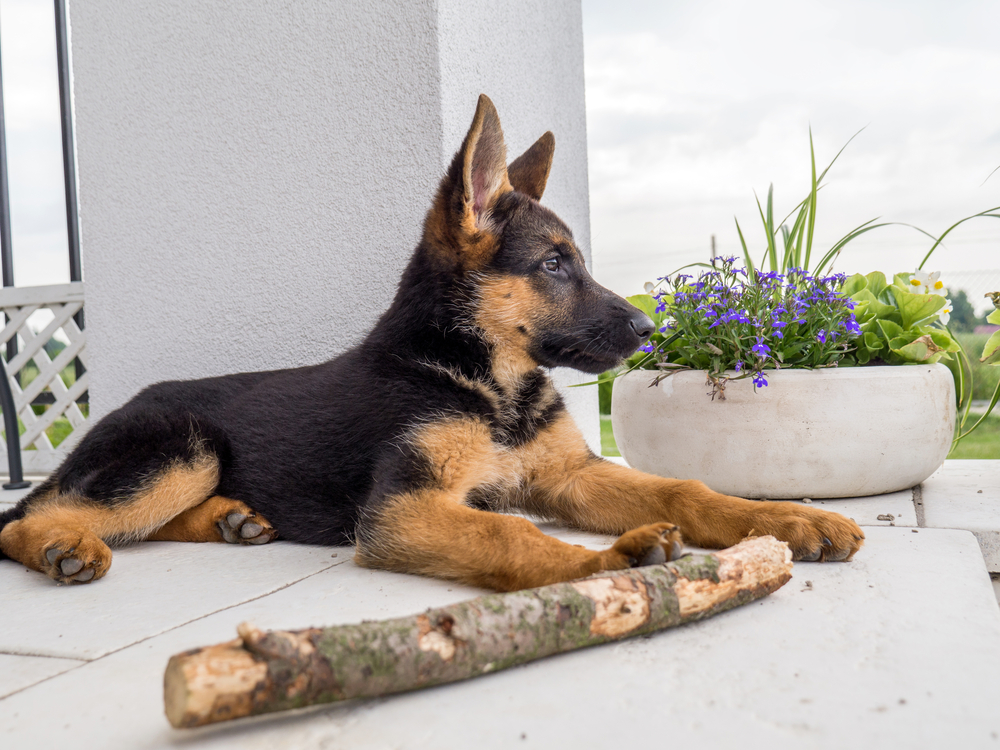 First and foremost, while considering the diet fed to GSD, keep their health issues in mind. In addition, because of his size, the German Shepherd is more susceptible to certain health problems, the most common of which are bone and hip issues.
They may also suffer from various joint ailments due to their genetic makeup or rapid growth.
To prevent this from happening, you should be cautious when feeding them high-nutrient dog foods, as they can promote dangerously rapid growth (even though German shepherds require the same essential nutrients as other dog breeds, such as protein, fat, carbohydrates, and other vitamins and minerals).
Aside from health concerns, there are several additional factors to take into consideration, such as the size, age, and degree of activity of your dog.
How Much To Feed A German Shepherd Per Day?
The amount of diet you feed your German Shepherd is mainly determined by his or her age or weight. Let us discuss both:
Daily feed intake of GSDs according to age
There are normally five age categories of GSD that you should be aware of while making feed decisions.
16 weeks and younger: 1 to 1.5 cups (28-42 grams) of food per day
16 weeks to 9 months: Around 2.5-3 cups (70-84 grams) of food per day
9 months to 12 months: About 3-3.5 cups (84-96 grams) of food per day
12 months to 9 years: About 4-5 cups (112- 140grams) of food per day
9 years and above: About 3 cups (84 grams) of food per day (as senior dog requires less food due to ore inactivity and less metabolism)
Table: Daily feed intake of GSDs according to weight
Adult GSDs in good health and fitness should be fed roughly this amount:
| | |
| --- | --- |
| Weight | Number of Cups (Amount of food) |
| 15-30 pounds | 2-2.5 cups per day |
| 30-45 pounds | 3-3.5 cups per day |
| 45-75 pounds | 3.5-4 cups per day |
| 80-100 pounds | 4-5 cups per day |
| 100+ pounds | 5 cups plus 1 cup for every 30 pounds |
Point to ponder: Every GSD is unique, so it's essential to consult with your veterinarian about the optimum feeding plan for your dog based on his or her age, activity level, and overall health. However, the above-mentioned data can serve as a reliable baseline.
What Type Of Food You Should Feed Your German Shepherd?
German Shepherds are large, powerful canines with a demanding desire for the best food. Although dogs are not obligate carnivores by nature, they perform best on a high-protein diet.
It is preferable to give them the majority of the protein from animal and meat products rather than plant ones.
It is recommended that you provide a minimum of 22-25 percent protein, while we recommend a minimum of 20 percent protein.
There are different dog foods types that GSD owners may offer to their dogs, and each has its own set of supporters and opponents:
Dry food: Usually available in the form of brown kibble, it is inexpensive, handy, and easy to store, and it should provide a complete and balanced diet for your dog. Kibble and its chewing movement necessary to consume it can assist your GSD in maintaining good oral hygiene. However, because dry food does not contain much moisture, your dog will require more fresh water if he is only fed dry food. You should also carefully examine the components to ensure that the meal has all of the necessary vitamins and minerals and the appropriate protein and other component ratios. We propose that you must select any premium quality dry kibble with a lot of positive reviews.
Wet Food: Wet food resembles bits of meat that have been coated in jelly or sauce. It is more delicious to dogs than dry food, at least in terms of taste, but it does not stay well for longer durations as dry food does. As discussed above, the German Shepherd breed enjoys chewing; providing only wet food may not be sufficient to satisfy the demand, and this type of diet may cause your GSD to become chewier ( become prone to chew furniture and other household things). Additionally, dry kibble is usually safe from environmental contaminants; wet food can get contaminated with bacteria after a few hours. After an hour, it should ideally be picked and any residues discarded. Wet food can be more costly and tends to be richer in protein than dry food, but it does provide proper hydration as well as nourishment.
BARF Food or Biologically Appropriate Raw Food: The BARF food diet is one of today's most contentious topics. This diet is composed of raw meat, frequently with bones, fruits and vegetables, probiotics and other natural supplements. It is also low in fat and cholesterol. So, BARF is considered one of the best food types for GSDs.
Opponents of this diet are concerned that their dog would contract microbial poisoning from the meat or that they will not provide a nutritionally adequate and balanced meal.
In contrast, those who support the practice claim that their GSDs have more energy, a better-looking shinier coat, and are healthier and more satisfied after eating the food.
Feeding a BARF diet will need more work on your side, as well as additional money and research. So, GSD parents should select food based on their own preferences and on the selection of their pup because every food type has its own pros and cons.
Ideal GSD Diet
Ideal GSD food must contain high-quality animal-based protein sources such as beef, chicken, lamb, swine, eggs, fish, and plant-based protein sources such as grains, legumes, vegetables, etc.
In addition, the meal should be high in lipids, carbohydrates, vitamins, and minerals, among other things.
Protein
Dietary protein is the essential nutrient for a German Shepherd's nutritional needs. Proteins perform a variety of functions, including:
It is a source of energy levels.
Helps to build and restore muscle.
Helps to regenerate skin, hair, and nail cells.
Helps to maintain the health of the immunological and musculoskeletal systems.
There is a difference in the quantity of protein required by pups and adult German Shepherds. Growing pups require a minimum of 22 percent protein, whereas adult German Shepherds require an 18-20 percent protein diet.
When feeding commercial dog food, protein is tested on a dry matter basis, which means that it is the amount of protein that remains after the moisture has been removed from the food has been calculated.
Fat
Fat is the second most important nutrient in a German Shepherd's diet, following protein. Fat is derived from protein and serves as a source of energy.
The regular growth and function of body cells, neurons, muscles, and tissues are also dependent on the presence of vitamin D.
It should be noted that the amounts required for pups and adult German Shepherds are different. When it comes to developing pups, 8 percent fat is advised, whereas 5 percent is recommended for an adult dog.
Carbohydrates
Carbohydrates generally account for 25 to 65% of the total carbohydrate content of a kibble/dry dog food. They are derived mostly from crops and grains, and they give energy in the form of sugars. Carbohydrates have an essential role in the nutritional value of GSD food.
The small intestine is responsible for the breakdown of carbohydrates into glucose molecules. In the dog's body, glucose is the most prevalent energy source, and the vast majority of cells can utilize it.
In addition to being required by the body to supply rapid energy, glucose is also necessary for the brain and nervous system to function normally. Glycogen can be stored in the GSD body and released later.
If the GSD consumes too much food and does not exercise enough, the glucose stored in the body will be converted into fatty deposits in the body, resulting in obesity.
Cereal grains are the most frequent source of carbohydrates. These grains must be broken up or boiled just long enough to allow the animal's intestines to absorb them easily before being fed. This also contributes to the improvement of the flavor of the raw components.
Carbohydrate sources that are often used in GSD food are:
Corn (Whole)
Whole wheat
Barley
Potatoes
Oats
Brown rice
Calorie Requirement
Your German Shepherd's caloric requirements will vary based on his age, size, breed, amount of exercise, and overall health. Here are some examples:
An active and growing GSD puppy may require double the number of calories as an adult GSD.
The caloric requirements of a pregnant or lactating dog will be significantly higher.
A senior German Shepherd may require 20 percent fewer calories in their diet than a mature German Shepherd.
German shepherd dogs are massive canines that often weigh between 60 and 90 pounds. Active dogs require between 1,750 and 2,200 calories per day, whereas sedentary or elderly dogs require between 1,300 and 1,600 calories per day.
Caloric needs for an active dog should be met by providing any premium quality food (dry, wet, or BARF) along with some occasional treats.
But remember, German Shepherd dogs who have become inactive due to arthritis or congenital problems such as hip dysplasia would benefit from a low-calorie diet that keeps the dog's weight down and prevents strain on sore joints. So, consult with your vet before offering a high-calorie diet to your GSD.
Mineral & Supplements
Provide minerals and supplements to your GSD occasionally. It is best to contact your vet before offering any kind of mineral or supplement.
Best Commercial Food Preferences for GSD
Purina Pro Plan Savor Lamb and Purina Beyond Simply Natural Lamb are the two best foods that completely satisfy the criteria of AAFC (Association of American Feed Control).
Both these foods will meet the nutritional needs of your German shepherd dog on a purely healthy level. These feeds are recommended to have at least 18% protein and 5% fat for adult dogs, or 228% protein and 8% fat for developing pups or lactating females.
Unlike most other dog breeds, who are fed puppy-specific dog food until they reach the age of one year, German shepherds are typically only fed a puppy diet for the first six months of their lives.
The early transition to an adult diet is performed in large dog breeds to prevent excessive development, resulting in bone and joint problems.
On the other hand, puppy feeds branded exclusively for large breed dogs are created to meet these concerns.
GSD Food & Feeding Options: Completely Explained Age-Wise
GSD Diet: Early Weeks (1-3)
German Shepherd puppies must initially suckle on their mother's milk in order to nourish properly. The very first milk GSD pups receive from their mother is known as colostrum.
It is a form of milk high in protein and antibodies. This helps to strengthen the immunological and central neurological systems of the puppy. After first milk, they then proceed to ordinary regular milk.
GSD pups will suckle for at least seven to eight weeks; after that, they must be progressively weaned off.
It is impossible to overstate the value of a puppy's first milk, which gives them 90 percent of their natural defenses during their early development. Apart from that, the initial feeding of a puppy assists in normal blood circulation and proper oxygenation of the puppy's tissues.
It is not acceptable to give a puppy cow or goat milk if the puppy cannot suckle its GSD parent for any reason. These kinds of milk are of inferior quality compared to the milk produced by a puppy's mother.
If you want your GSD pup to be weaned soon, you must contact a vet. He will then recommend any GSD special infant milk formula and tell you the optimum dose.
GSD Diet: 4-8 Weeks
When feeding a GSD puppy between the ages of three and four weeks, every owner should begin by offering them various food types with multiple flavors.
When a German Shepherd puppy is seven to eight weeks old, he or she should be fed a small amount of dry dog food/kibble mixed with water or plain chicken (with no seasoning).
All this must be given in between breastfeeding sessions. Similarly, if you want to go for wet food, you can also start that at this stage.
It is recommended that GSD puppies must be weaned at the 8th week and begin eating proper dog designed commercial/home-based solid food. However, while breed-specific dog food for German Shepherd puppies is available in some areas, it is not accessible everywhere.
In these circumstances, your veterinary doctor can develop a healthy diet plan for your GSD. A specialist/vet can access a puppy's eating routine, size, and overall health state before making a decision.
Any type of milk should be eliminated from the GSD puppy's diet at this stage (1.5 Months) since it has the potential to induce diarrhea. Additionally, pups must have regular access to wholesome and fresh water.
Feeding table of GSD Diet: 4-8 Weeks (especially in puppyhood)
| | |
| --- | --- |
| Newborn | Breastmilk |
| 3-4 Weeks | New Flavors-Porridge/Wet Food |
| 6-8 Weeks | Moistened Dry Food |
| 8 Weeks | Solid Puppy Food |
German Shepherd Diet: After 2 Months
When your German Shepherd is two months old, you can gradually reduce the amount of moisture added to his dry diet. Finally, the GSD pup will become accustomed to consuming the food entirely without water.
According to experts, GSD puppies will eat 3 or 4 times a day when they are two months old. But you have to teach your puppy to eat properly only during eating sessions. This is an essential element of a puppy's early education and socialization.
In order to allow the puppy enough time to eat its meal, every pet parent should start by setting a dish of food down for 8-12 minutes before moving on.
Ask your dog to eat during this time. If your dog hasn't eaten his meal or does not finish it, removing the food dish from the table after twelve minutes is recommended.
This routine will expose the puppy to his or her eating schedule and provide him or her with an opportunity to develop acclimation to certain feeding times.
It is critical for a dog's cognitive development to accept and adapt to a food plan. It also allows for more sophisticated and difficult training sessions to be conducted.
According to the American Kennel Club, the GSD puppy diet should have larger calories, lipids, proteins, and calcium levels in their diet than adult GSD dog food. This happens because puppies are in a growing phase, which requires more nutritious food.
GSD Diet: After 4 Months
After four months, the number of servings per day should be lowered to three. The amount of food served must be increased, and a two-minute buffer must be provided for eating.
The package of premium commercial GSD dog food will specify the recommended amount of feed for a puppy based on its age/weight, as well as the puppy's recommended feeding schedule. If you have any issues, you should visit your veterinarian immediately.
Furthermore, you should start combining fresh food with the commercial dry feed, such as chicken, beef, or veggies. Keep an eye out for items that are off-limits to dogs.
Some pet parents prefer feeding a raw diet to a GSD, but we urge that you should go for cooked food or commercial food.
This avoids bacterial contamination up to many folds. Additionally, fish or meat bones should be avoided since they can cause lacerations in the GIT track and damage a dog's teeth.
GSDs should be fed wet food in moderation since excessive amounts can create plaque buildup and foul odors in their stools while urinating.
On the other hand, dog treats can only be used in moderation as they never substitute for a dog's regular diet.
Human meal leftovers should never be given to a GSD or any other dog. Human food has high sodium, sugar, and seasonings, all of which are detrimental to a canine's health.
GSD Diet: At 6 Months or Onward
When your GSD reaches the age of six months, you should limit the food servings up to 2 or 3 (prefer two servings each day). You can raise the meal quantity and eating duration as needed when doing this.
But remember, the optimal customized diet or meal schedule for your GSD can be provided to you by your veterinarian.
When your GSD reaches the age of six months, you should start giving him shatterproof bone toys to chew on. This should be done to help the dogs' teeth/gums to grow stronger.
After six months, your GSD becomes an adult, and you should use a commercial and premium quality diet. Similarly, your GSD diet should remain constant after adulthood with fewer changes until its death.
How Many Time To Feed A German Shepherd Daily? Or Feeding Frequency
Here's how you determined the daily feeding frequency:
9 months and younger: Feed your GSD three times per day at evenly spaced intervals.
9 months to 12 months: Make a smooth shift to two meals each day, focusing on the morning and evening meals.
German shepherds over the age of 12 months will normally eat twice a day as part of their natural diet.
Tip: It can be a good idea to avoid eating immediately before night. Allow them to finish digesting their meal before putting them to bed.
German Shepherd Feeding Instructions for Seniors
Senior dogs are more likely to be inactive. They exercise less, expend less energy, and their bodies do not require the same amount of vitamins and nutrients that younger adult dogs or pups do. There is no age restriction on when a dog is deemed senior.
When a dog's behavior changes, its owner will be able to identify it. Your GSD will be less likely to want to walk, will be less interested in chasing objects, and may not want to play as much or for as long as they used to.
You may either continue feeding a high-quality adult food or switch to a senior diet that is formulated for this stage of your dog's life and has the appropriate quantities of protein, calcium, and other essential nutrients.
German Shepherd Feeding Tips for Puppies
Immediately after your puppy has finished eating, remove the bowl from the dog and count how much food is left in the dog bowl.
Repeat this process for many days to ensure that you obtain the proper amount of meals.
You'll notice a significant rise in your puppy's hunger as he approaches growth spurts. At this moment, pay close attention to your puppy.
If he appears to be constantly hungry and malnourished, you may need to increase the amount of food in his dish.
If he looks overweight or is suffering from diarrhea, you might consider reducing the amount of food he consumes significantly.
How Much To Feed German Shepherd: Breakdown
You must feed your German Shepherds according to their age or weight. On average, an adult German Shepherd requires 2.5-3.5 cups of dog food daily that must be given in 2-3 servings.
Furthermore, adult German Shepherds require around 1,800 calories each day (more or less depending on their size).
It is best to keep your GSD in optimal weight according to their age. If you see that your dog is losing weight, increase the number of calories in their diet.
Similarly, if they are beginning to accumulate excessive fat on their bodies, reduce advised serving amounts by approximately 25%.