German Shorthaired Pointer Zoomies – How To Calm Your GSP
German shorthaired pointers are energetic, curious, and eager to learn. That is what makes them great family dogs. German shorthaired pointer zoomies are a natural dog behavior, but sometimes they can get out of control. This guide will help you calm down your German shorthaired pointer when it's having a crazy moment! What are Dog Zoomies? Dog…
German shorthaired pointers are energetic, curious, and eager to learn. That is what makes them great family dogs. German shorthaired pointer zoomies are a natural dog behavior, but sometimes they can get out of control. This guide will help you calm down your German shorthaired pointer when it's having a crazy moment!
What are Dog Zoomies?
Dog zoomies are short bursts of energy that dogs experience and are expressed through play. These bouts of hyperactive behavior aren't like the normal playfulness we see between dogs. They are more intense and almost like a trance-like state of mind.
They involve running around quickly in circles or straight lines with their heads up and tails wagging. Sometimes these episodes will involve jumping up and down and sprinting and circling objects such as trees or furniture.
When do Zoomies Happen?
Here are some common reasons your GSP is running around like a maniac!
You're not feeding him enough food
Your GSP doesn't get enough exercise
Your GSP gets too much exercise
It could be their instinct to run around chasing birds
It can also be an indicator of happiness and excitement
They could be excited when playing with another dog
Why is Your German Shorthaired Pointer Hyper?
If you have a German shorthaired pointer breed, you know that they can be very energetic and hyperactive. GSP's genetic makeup is designed for hunting purposes, and their instincts are to chase after prey.
They were originally bred as bird hunting dogs. But now, they are used for many different reasons, including hunting, tracking, search and rescue, and companionship. They are extremely high-energy dogs and require a lot of exercise to keep them calm and happy.
If your GSP isn't getting enough exercise and mental stimulation, you might start seeing some hyperactive behavior from your pet. Hyperactive behavior can include:
Excessive barking
Jumping off furniture
Wandering away from home
Digging holes in the yard
Biting or chewing on things (like furniture or shoes) that are not food-related items
If you have a crazy pup with a history of seizures or fits (called "fits"), it isn't just due to hyperactivity. It is possible your pup has something medically wrong. You have to consult your vet for this.
Are Zoomies Safe?
Zoomies are safe for German Shorthair Pointers. German shorthair pointers are energetic dogs, and they need regular exercise to stay healthy. One of the best methods to give your dog a good workout is through "zoomies" or "running in circles." Zoomies give your dog a chance to run off some energy and explore.
Zoomies can be dangerous if they cause your dog to run into the street or fall stairs or off a high ledge because he wasn't paying attention while running around. So make sure there are no hazards around before encouraging your pup to zoom around like crazy.
Calming down Your German shorthaired pointer
Zoomies are normal in young dogs and puppies, but they can become problematic when they occur in adults. They can also be triggered by stress, excitement, or boredom.
Below are some tips to calm your German shorthaired pointer: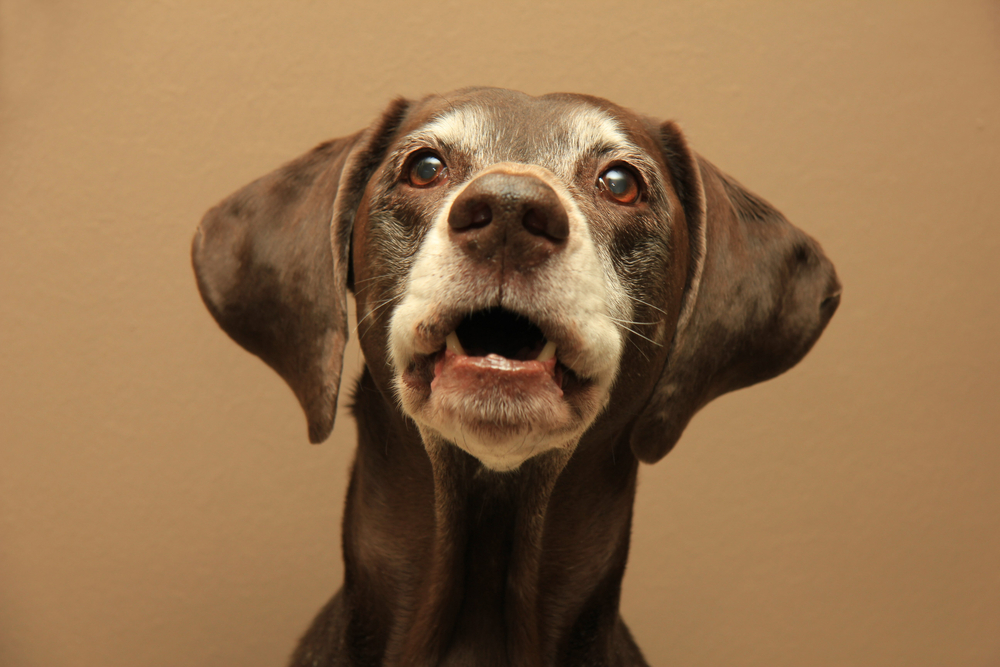 Take them for a walk
To keep your German shorthaired pointer calm, you must provide him with plenty of physical activity daily. It can include taking him on walks or running outside while he chases after birds or squirrels.
If you don't have time for a walk, try playing fetch or tug-of-war with your German shorthaired pointer instead! You can also train for command "Place" to stop this behavior.
Please give them a treat!
Overstimulated dogs may benefit from calming treats like peanut butter or cheese. You can also try giving your dog some rawhide chews that will help slow down their breath rate and heart rate while they chew on them!
Calmly walk away
Another way to stop the zoomies is simply by walking away from your dog calmly. Eventually, they will get bored of running around in circles and chasing their tails. It's best for both of you to walk away for a few minutes until they calm down again!
GSP Diet and Energy
A German shorthaired pointer requires an active lifestyle, so feeding this breed a high-quality protein and energy diet is important. Blue Buffalo Life Protection Formula is the best high energy diet.
GSPs should also feed a diet rich in omega-3 fatty acids like Taste of the Wild High Prairie Grain-Free.
You should feed your dog around 3 cups of food per day, but if your dog needs more exercise, you may have to increase his intake to 4 cups per day. The German shorthaired pointer needs around 1 hour or more of daily exercise.
One of the best methods to exercise your German shorthaired pointer is taking walks with him every day. It will help burn off excess energy and keep him fit while also providing some quality time together as a family!
The breed requires at least 30 to 60 minutes of vigorous activity each day, such as running in an open field or playing fetch with a ball or stick. Without adequate physical activity, the GSP have hyperactive and destructive behavior.
Training Your German shorthaired pointer
The first step is to start training your German shorthaired pointer as soon as possible after its arrival home.
It will allow you to establish dominance over your new pet and teach it basic commands such as "sit" or "come here".
These commands will help you gain control over your dog when they get excited. These can be very helpful when trying to calm down a zoomies German shorthaired pointer.
Owners of German shorthaired pointers need to learn to control their pets through positive reinforcement rather than negative reinforcement (such as hitting).
Best Training Games
The German shorthaired pointer is an excellent hunter and can be trained to point, retrieve, and track. This breed also excels at agility trials, flyball competitions, obedience trials, showmanship events and field trials.
Agility training is a fun way of exercising your dog while also challenging them mentally as they learn new skills and develop their problem-solving abilities. Agility training involves teaching your dog how to navigate obstacles such as ramps, jumps, and tunnels.
GSP Jumps on People
A German shorthaired pointer can train to walk on a leash, but they are not always easy to control in public places. A GSP may pull on the leash, jump up on people and sniff everything.
You can help calm down your GSP by teaching the command "Stay" to not jump on people and how to walk politely on a leash. It will take some time and patience, but it will be well worth it!
How to Teach a German Shorthaired Pup Not to Bite
The best way to teach your German shorthaired pointer not to bite is to redirect his aggression away from people and onto something else, like a rag or a toy. Here's how it works:
The first thing you need to do is stop playing with your puppy when he bites you.
When your puppy bites you, say "Ouch!" in a loud voice and give him a loud "No!" Pull your hand away from the puppy and stop playing. It will make him think that biting is a bad thing and start avoiding it.
You can offer something else that the puppy can chew on like an old towel or a chew toy.
You can use treats or praise as rewards for good behavior.
Conclusion
German shorthaired pointers are a breed of dog known for their intense zoomies. They need a lot of exercise and physical activity to keep them calm and happy. Before buying or adopting, you must understand their need for exercise, mental stimulation, and their natural ability to run.
The zoomies consist of a series of quick movements and jumps. These jumps may be abrupt or gradual, depending on the dog's energy level. Fetch, zoomies, and a good game of tug-of-war can wear out even the most active GSP.